Description
V4A - 5.2-channel audio and video amplifier with built-in CINEMA DSP 3D, HDMI™ 4-in/1-out and wireless surround functions.
5.2-channel powerful surround sound
Wi-Fi, Bluetooth®, AirPlay 2, Spotify streaming service and MusicCast multi-room sound technology
HDMI™ 4 in/1 out
Dedicated game functions (ALLM, VRR, QMS, QFT)*
Amazon Alexa and Google Assistant Voice Control Compatibility#
Supports connection to wireless surround

speakers

(MusicCast 20 or MusicCast 50)
HD Audio for CINEMA DSP 3D

YPAO™ sound optimization
*Will be updated via Firmware

#Services vary by region
Unparalleled sound effects
CINEMA DSP 3D for movies, music and games
This original Yamaha sound field creation technology is created by combining actual measured sound field data and digital signal processing technology. Yamaha collects sound field data from the world's leading concert halls and music performance clubs, leveraging its extensive experience in concert halls, public spaces and mixing fields. Digitize and integrate huge information database into dedicated LSI devices. Through home theater equipment, the sound field of the concert hall space is accurately reproduced, allowing you to experience the immersive presence and shocking theater sound effects.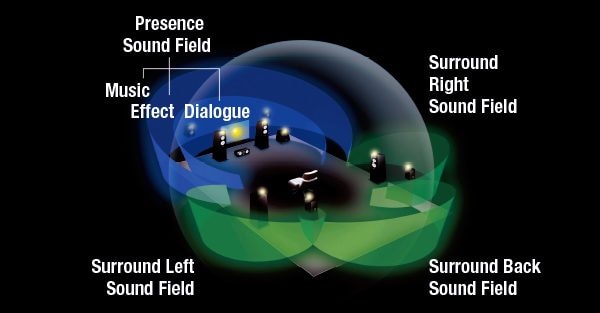 Advantages of high conversion rate amplifier
This will help with accurate signal transmission, especially for high-resolution audio. Usually, high slew rate amplification causes unstable signal transmission, but Yamaha's newly designed circuit can achieve high slew rate with stable signal transmission.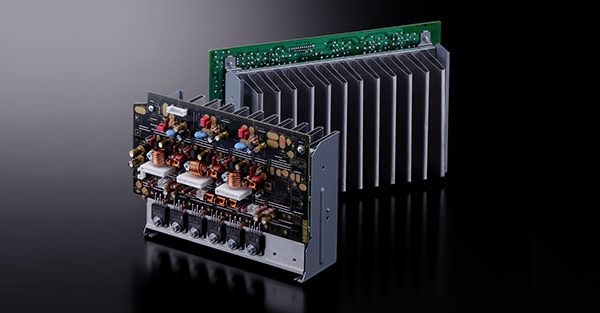 compressed music enhancer
When music is encoded in a digitally compressed format, such as MP3, frequency response is affected. Yamaha's Compressed Music Enhancer uses sophisticated digital signal processing with exclusive algorithms to repair lost data, keeping the played music as it should be.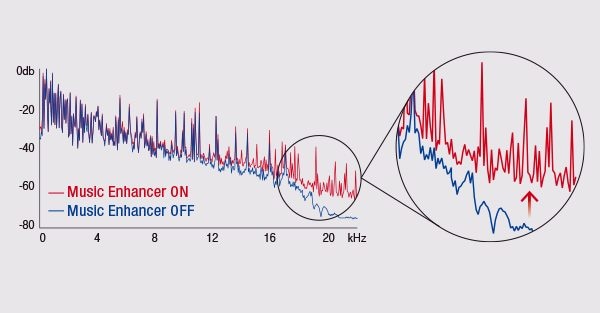 Unprecedented movie and game experience
HDR10+*
HDR10+ signals not only signal the dynamic range (ratio of light and dark) of video content on a per-scene basis (or even per-frame), but also provide scene characteristics between light and dark with a small amount of metadata to preserve important details. This allows the display to more faithfully reproduce the image as intended by the creator.
*This feature requires a firmware update.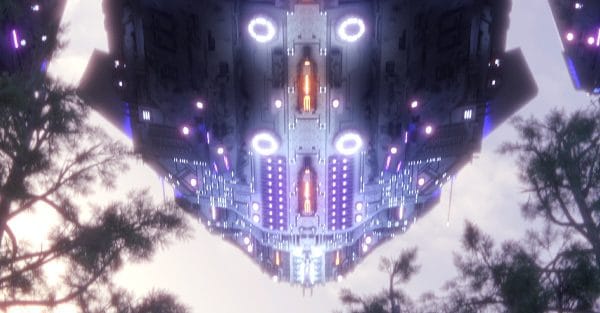 8K/60Hz, 4K/120Hz*
Supports end-to-end 8K/4K resolution and higher refresh rate image quality, and can be seamlessly integrated through an upgraded single HDMI cable. 8K has twice the horizontal and vertical resolution of 4K and has 4 times the pixels; combined with a 60Hz update rate, you can watch high-speed action content smoothly and clearly. 4K/120Hz allows UHD images with ultra-fast motion to achieve a clear and sharp viewing experience; making sports events, action movies, high-performance games, and VR entertainment experiences smoother.
*This feature requires a firmware update.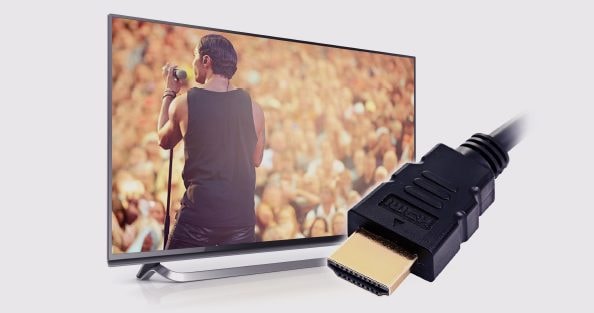 Game-specific functions (ALLM, VRR, QMS, QFT)*
Enhanced gaming and multimedia functions, effectively improving the smoothness and transition effects of games, movies and videos. Enhanced features include: Auto Low Latency Mode (ALLM) automatically sets the ideal latency mode for smooth, lag-free and uninterrupted viewing and interactivity. Variable Refresh Rate (VRR) can reduce or eliminate delays, interruptions and screen tearing, creating a smoother and more detailed gaming experience. Quick Media Switching (QMS) is specially designed for movies and videos to eliminate blank screen delays before content is played. Quick Frame Transport (QFT) reduces latency issues, enabling a smooth gaming experience and an instant interactive virtual reality experience.
*This feature requires a firmware update.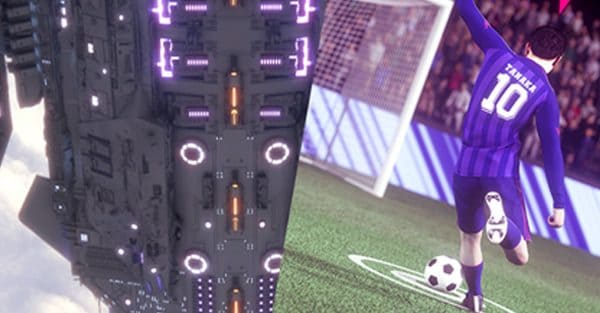 Simple to set up and easy to use
AV Setup Guide App Installation Guide
No need to worry, no need to be confused. Use this App to get professional setup support for connecting audio and video amplifier audio source devices. It can even guide you through many other settings, such as connecting and configuring the amplifier to speakers, TVs, and other devices.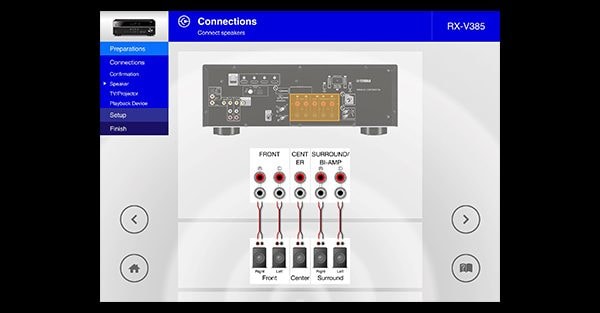 Easy operation with MusicCast App
Use the MusicCast CONTROLLER App to operate your audio and video amplifier from your smartphone or tablet and change settings quickly and easily. The same Controller app can be used to control all of your MusicCast-compatible multi-room audio equipment.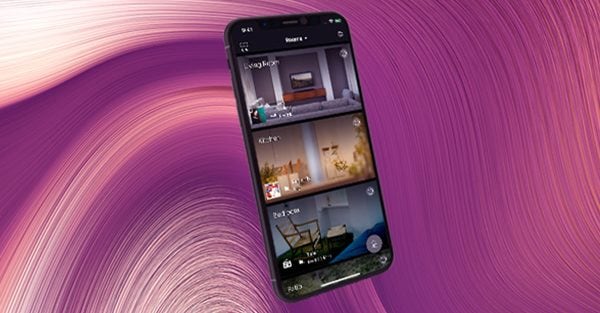 Voice control (Alexa, Google Assistant)
Touch or voice control - the choice is yours. Use Alexa or Google Assistant to easily and intuitively control a MusicCast product or an entire home system and make your home listening environment more dynamic.
* Availability of voice command control via Amazon Alexa and Google Assistant varies by region.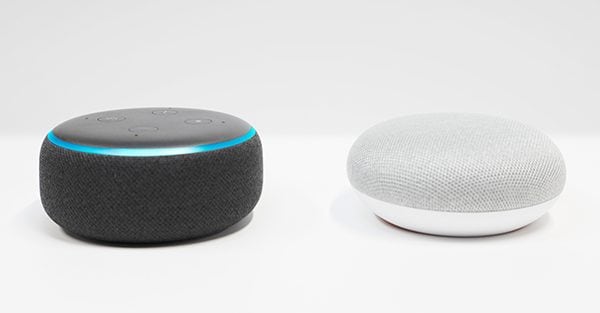 Designed for your space
YPAO™
YPAO (Yamaha Parametric room Acoustic Optimizer) can analyze the space acoustics and your system, accurately adjust the sound parameters, and bring an optimized customized sound field to the space. Just place the provided test microphone at your listening position, then turn on YPAO, and the system will automatically perform corrections to achieve the best results for your home theater space.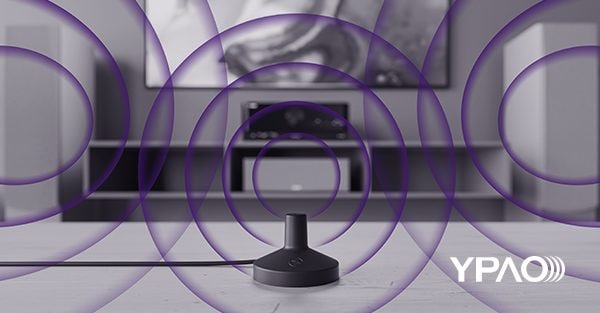 Compatible with wireless rear speakers
An audio-visual amplifier and MusicCast 50 or MusicCast 20 wireless streaming speakers , combined with wireless rear speakers , can give you a top-notch home theater experience. On top of that, you can enjoy realistic sound effects with a clean and simple setup. Quickly turn your current living room into an audio-visual entertainment place where you can watch movies and listen to music.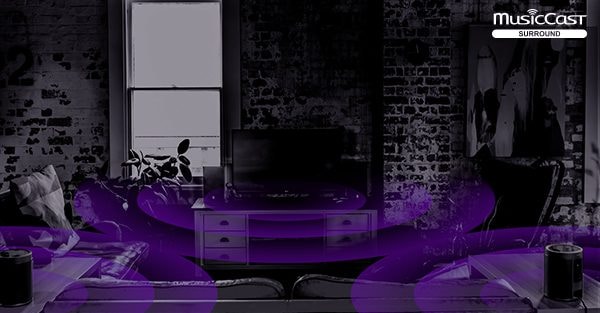 Deep and powerful design philosophy
Yamaha's bold and streamlined chassis design embodies key aspects of home entertainment control. Iconic exterior design focuses on performance and seamless integration. Its construction demonstrates a harmonious elegance and excellence.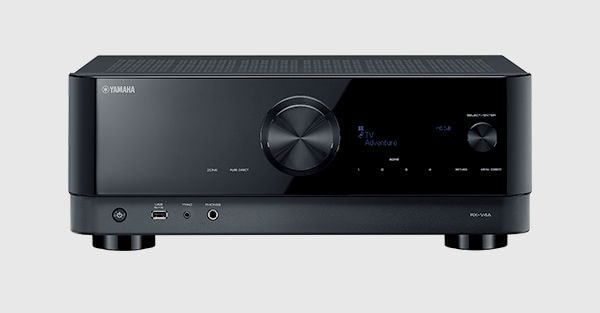 SCENE function key, with preset song and radio functions
There are four SCENE function keys in total. You can preset these to different output and sound field programs, Music Enhancer, HDMI output and other options. Inputs can be set to specific sources, such as FM or Internet radio stations, stations from a streaming service, USB devices, or any song stored on a PC or NAS (network hard drive). After setting the function keys, simply press the main unit or remote control to turn on the amplifier and listen to the music you want. This function can be reset at any time.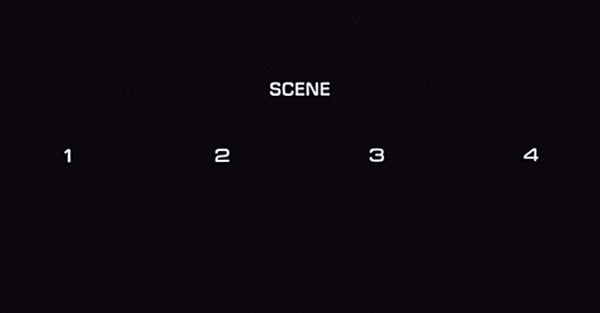 other
Multi-room audio – MusicCast
Imagine being able to enjoy all the music you love in any corner of your home, in any format. MusicCast supports everything from your favorite vinyl records to AirPlay®, Bluetooth® and music streaming services*, even TV sound.
In addition, all MusicCast products are designed to provide excellent sound quality. Supports high-resolution formats, including Apple Lossless (ALAC) up to 96kHz, WAV, FLAC, FLAC and AIFF up to 192kHz.
*Music streaming service availability varies by region.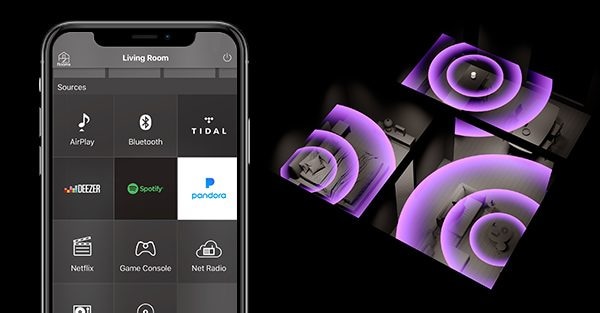 AirPlay 2
Hey Siri. Play music in the kitchen and living room.
AirPlay2 adds the ability to stream Apple Music and other streaming services to multiple MusicCast devices around the home. Easily control it from your iPhone or iPad, connect it to HomePod, or use voice control to ask Siri for help.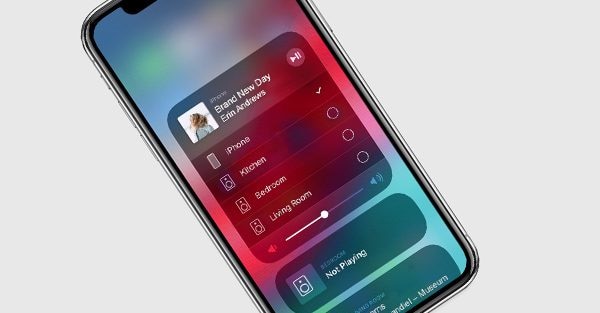 Streaming services
Explore the world of music with the built-in music streaming service*. Sync your smartphone or computer's playlists and favorite songs to your AV, and music streaming services make it easy to listen to your favorite music or discover new music.
*Music streaming service availability varies by region.
eARC
Explore the full potential of 4K content. Enhanced Audio Return Channel (also known as eARC) is a new generation of ARC – a feature already equipped in industry-leading Yamaha audio and video amplifiers.
eARC delivers full-resolution, multi-channel audio formats such as Dolby® TrueHD and DTS-HD® over an HDMI connection, giving you the most realistic surround experience so you can immerse yourself in your favorite movies.
Specification:
Amplifier Section
Channel: 5.2ch
Level output power (1kHz, 1ch driven): 115 W (6 ohms, 0.9% THD)
Level output power (20Hz-20kHz, 2ch driven): 80 W (8 ohms, 0.06% THD)
Maximum performance output power (1kHz, 1ch driven) (JEITA): 145 W (6 ohms, 10% THD)
High Conversion Rate Amplification: Yes
Surround Sound Processing
CINEMA DSP: Yes
DSP programs: 17
Dialogue volume adjustment: Yes
Virtual Presence Speaker: Yes
SILENT CINEMA / Virtual CINEMA DSP: Yes
Dolby TrueHD: Yes
Dolby Digital Plus: Yes
DTS HD Master Audio: Yes
Audio Features
File formats: MP3 / WMA / MPEG-4 AAC: up to 48 kHz / 16-bit, ALAC: up to 96 kHz / 24-bit, FLAC: up to 192 kHz / 24-bit, WAV / AIFF: up to 192 kHz / 32-bit, DSD: up to 11.2 MHz
Pure Direct: Yes
Compressed Music Enhancer: Yes
Adaptive DRC (Dynamic Range Control): Yes
Initial volume & maximum volume setting: Yes
Bi-amp compatibility: Yes
Audio delay: Yes (0-500 ms)
Digital-to-analog converter: 384 kHz / 32-bit BB PCM5101A
Video Features
HDMI eARC: Yes
HDMIARC: Yes
HDMI Pass-through: 8K / 60 Hz, 4K / 120 Hz*
HDMI Up-scaling: Yes up to 4K
Dolby Vision: Yes
HDR 10+: Yes*
VRR/ALLM/QMS/QFT: Yes*
Connectivity
MusicCast Surround: Yes
HDMI input/output: 4 / 1
HDMI CEC: Yes
USB input: Yes
Network Port: Yes
Wi-Fi: Yes (2.4 / 5 GHz)
AirPlay 2: Yes
Bluetooth: Yes (SBC / AAC)
Front AV input: USB
Digital Audio In/Out: Optical: 1 / 0
Digital audio input/output: Coaxial: 1 / 0
Analog audio input/output: 3 / 0
Preout: 0.2-ch
Headphone output: 1
Tuner Section
User Interface
Screen display: Graphical User Interface
SCENE: Yes (4 sets)
App Control: Yes (iPhone / iPad / Android phone / tablet)
Remote Control Unit: Yes
General
Standby power consumption (IR only): 0.1W
Auto standby: Yes
ECO energy saving mode: Yes
Dimensions (W x H x D): 435 x 171 x 377 mm
Weight: 8.8kg
*Will be updated via Firmware