Description
Audio Research Reference 6SE Stereo Preamplifier Pre Amplifier (Stereo)
50th Anniversary Special Edition
All AUDIO RESEARCH licensed products sold by our company are made in the United States.

From now on, when you purchase ARC LS28SE, REF6SE preamplifier, you can get it for free "CLARUS CRIMSON 3' Fever Power Cord" Article B (valued at $20,500).


First come first served, while supplies last!
50th anniversary model

Full tube voltage stabilizing rectifier 6550WE + 6H30
No negative feedback, six 6H30 fully balanced amplification circuits

One of the best tube amp brands in the world

Support AVbypass

Use factory reference grade coupling capacitors

All Audio Research licensed products sold by our company are made in the United States.

This product comes with 1-year licensed warranty and free shipping service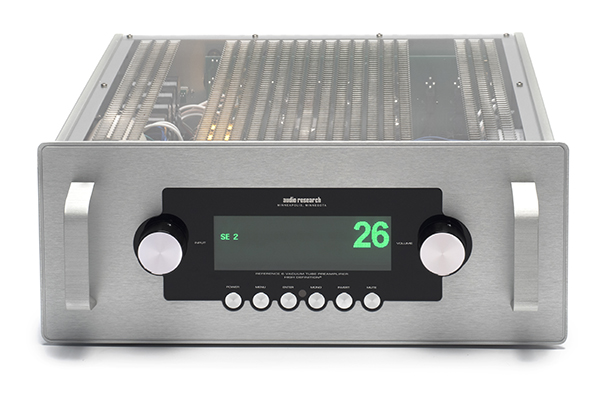 Audio Research REF 6 SE

 

SPEC:
Electronic Specifications
---
FREQUENCY RESPONSE
+0-3dB, 0.4Hz to 200kHz at rated output (Balanced, 200k ohms load).
DISTORTION
Less than .01% at 2V RMS BAL output.
GAIN
Main output: 12dB Balanced output, 6dB SE output. Record out: 0dB (Processor input: 0dB BAL
output).
INPUT IMPEDANCE
120K ohms Balanced, 60K ohms SE. Inputs: 4 balanced, 4 single-ended. Assignable
processor passthrough.
OUTPUT IMPEDANCE
600 ohms Balanced, 300 ohms SE Main (2). 20K ohms minimum load and 2000pF
maximum capacity. Outputs (3): 2 main, 1 record out (XLR and RCA connectors).
OUTPUT POLARITY
Non-inverting.
MAXIMUM INPUT
18V RMS BAL, 9V RMS SE.
RATED OUTPUTS
2V RMS (1V RMS SE) into 200K ohm balanced load (maximum balanced output capability
is 70V RMS at less than 0.5% THD at 1kHz).
CROSSTALK
-88dB or better at 1kHz and 10 kHz.
CONTROLS
Rotary encoders: Volume (103 steps), Select Input. Push Buttons: Power, Menu, Enter, Mono,
Invert, Mute.
POWER SUPPLIES
Electronically regulated low and high voltage supplies. Automatic 45 sec. warm-up/
brown-out mute. Line regulation better than .01%.
NOISE
1.7uV RMS residual IHF weighted balanced equivalent input noise with volume at 1 (109dB below 2V RMS output.)
TUBE COMPLEMENT
(6)-6H30P dual triodes, plus (1 each) 6550WE and 6H30P in power supply.
POWER REQUIREMENTS
100-135VAC 60Hz (200-250VAC 50/60Hz) 130 watts. Standby: 2 watts.
DIMENSIONS
Width: 19" (48 cm)
Height: 7.8" (19.8 cm)
Depth: 16.5" (41.9 cm)
Handles extend 1.6" (4 cm) forward of the front panel.
Weight: 37.5 lbs. (17 kg) Net; 49 lbs. (22.3 kg) Shipping