Description
HiVIHK Digital Audio is the designated projector distributor for Samsung

and The Premiere Experience Zone
Enjoy 3 years of on-site maintenance, free delivery and on-site setting service (Hong Kong area)
Samsung The Premiere SP-LSP9TJA (2023 Hong Kong licensed version)
4K HDR10+ flagship 3-laser ultra-short throw projection TV
RGB 3-color laser, no color wheel, high brightness output, high dynamic contrast 2,000,000:1
The top ultra-short throw all

-glass lens

, 4.4" projects a 100-inch large screen
Built-in HD TV Tuner, you can watch TV directly

40-watt

4.2

-channel

The Premiere Acoustic Beam

Soundbar Speaker

Supports HDR10+ and HLG accurate color reproduction, 147% color gamut coverage

Long-lasting laser light source with a lifespan of up to 20,000 hours

Amazon Alexa and Google Assistant smart voice control

Excellent sound and picture performance creates an exclusive home cinema
The Premiere LSP9T has an ultra-short throw ratio of 0.189. It can project a 100-inch large screen at a distance of 4.4 inches. Even at a very close distance, it can still project a wide screen, providing users with a comfortable viewing experience from any angle. Bringing an unparalleled viewing experience.
The Premiere LSP9T uses three-color laser technology, using the three primary colors of RGB red, green, and blue as the laser light source. It also supports 4K resolution and can display DCI-P3 147%/BT.2020 106 even when projecting a 130-inch screen. % color gamut of ultimate colors. LSP9T is the world's first projector to obtain HDR10+ certification. Its exquisite and vivid pictures make users feel like they are in a movie theater, enjoying a more immersive and real experience.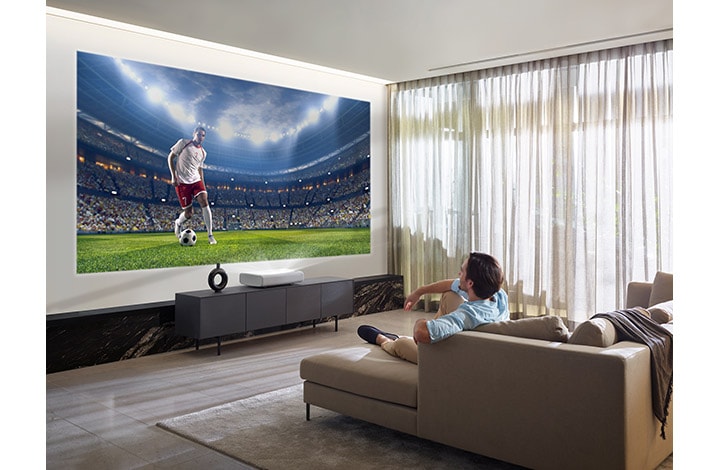 The Premiere LSP9T has high brightness and high contrast, with a maximum brightness of 2800 ANSI lumens. Even in daytime and strong light environments, it can still fully display exquisite picture details, allowing users to enjoy excellent image quality. The Premiere LSP9T has built-in 40W 4.2-channel speakers and subwoofers, and uses Acoustic Beam technology to allow sound to be emitted through 22 sound holes on both sides of the projector, bringing deep and thorough full surround sound without the need for external speakers, creating a shocking and heart-pounding experience. stereo experience. Whether it is science fiction, horror or action movies, movie fans can enjoy a surreal viewing experience and easily immerse themselves in the world of entertainment. The Premiere LSP9T's ultimate sound and picture performance creates an exclusive home theater for movie fans, allowing them to watch their favorite movies while sitting at home.
Create a new streaming entertainment experience comparable to smart TVs
The Premiere LSP9T is different from ordinary projectors in that it has a built-in TV antenna reception and is equipped with the Tizen smart TV operating system. Users can use different applications such as Netflix, YouTube, ViuTV and other streaming platforms to catch up on dramas and watch various movies at any time. Enjoy the endless 4K audio and video world.
The Premiere LSP9T also provides a variety of connection options, supporting Bluetooth and AirPlay2, so that it can be connected to a smartphone [1] to project content on the big screen. In addition, The Premiere LSP9T also supports the Tap View [2] function. Just bring the mobile phone close to the side of the projector to automatically mirror the mobile phone content to the projection screen, allowing users to share and display content on the big screen. Users can also use the Bixby voice recognition function to search for content they want to watch, and enjoy the endless convenience and fun brought by smart life.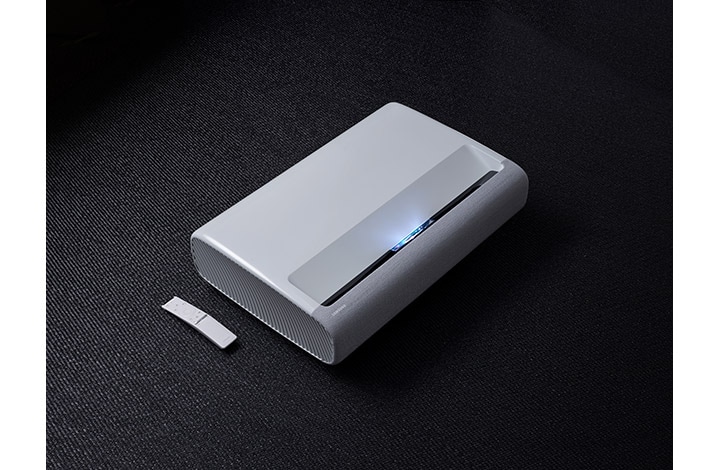 Advocating soft and simple design to perfectly integrate into home space
The Premiere LSP9T has an elegant and fashionable design, with a pure white body, simple lines and rounded corners. The appearance is simple and neat, and can easily integrate with various decoration styles and any furnishings in the home. The projector is compact in size and can be flexibly placed in any space. With the advantage of its ultra-short throw lens, it can project a wide image without requiring a lot of space on the body and wall. There is no need to go out of your way to install it on the wall or ceiling, avoiding the cumbersome installation process. The Premiere LSP9T is free of messy wires, brackets and various parts. Users only need to plug in the power cord and connect to the wireless network to enjoy the unlimited fun of projection.
[1] Supports Android OS and iOS mobile phones.
[2] Applicable to Galaxy smartphones running Android 8.1 or above. Both the mobile device and The Premiere need to be powered on to enable this feature.
Three-color laser technology
The Premiere uses a three-color laser light source to provide a dramatic viewing experience for home theaters, just like being in a theater. Enjoy incredibly precise color accuracy and incredible contrast on screen space up to 130 inches. The Premiere is the first-ever projector to be HDR10+ certified, enabling realistic and vivid viewing.
Samsung The Premiere 4K Laser Projector (Ultra Short Throw) SP-LSP9TJA Product Specifications:
model

SP-LSP9TJA XZK

display type

DLP

type of light source

Triple Laser

operating system

Tizen OS

size

21.7 inches x 5 inches x 14.4 inches

weight

11.5kg

Resolution

3840 x 2160

speaker

40W 4.2 CH

power supply

AC100-240V 50/60Hz

port

3xHDMI

1x USB

Ethernet (LAN)

Digital TV antenna signal input

digital audio output

Audio Return Channel (HDMI eARC)

WiFi 5